How did Ivana's Tales of Long Ago come to be?
Sparks from the hearth of an old Slavic home
Ivana Brlić-Mažuranić was born in Ogulin on 18th April 1874. She died in Zagreb on 21st September 1938.
Much has been written and many have written about Ivana's Tales of Long Ago. On two occasions Anton Gustav Matoš wrote, with delight, about her work how he "was surprised upon discovering the little masterpiece." That was in 1913 after the publication of the Ivana's children's book Čudnovate zgode šegrta Hlapića (The Brave Adventures of Hlapić the Apprentice ). The following year Matoš died, and two years later, in 1916, Ivana published her best work Priče iz Davnine (translated into English as Croatian Tales of Long Ago).
To this day, these Tales have remained the greatest work of literature for children in this linguistic region.
Croatian Tales of Long Ago have been published many times in Croatia as well as globally. They have been translated into many languages, and writers from the world have named her "the Croatian Andersen" due to her originality and her fairy tales. Some foreign publishers have even suggested to their readers, with the titles of their editions, that this was a work of folk creativity. However, it is an original artistic piece of work and the creative achievement of an exceptionally talented writer.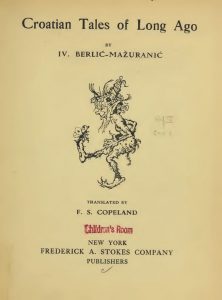 The author herself explains the origin of her Tales best in a letter to her son Ivan Brlić, written in 1938.
"… these Tales are as much in their essence, as they are in their rendition purely and completely my original work. They were composed around the names and characters from Slavic mythology, and that is the only external connection, which they have with folk, mythological legend. Not one scene, not one story line, not one elaboration, nor one aim in these stories are found complete in our mythology. (Whoever deals at all with the study of mythology, knows anyway, that our Slavic mythology is unfortunately, in its entirety, a group of almost completely incoherent speculations, a field of ruins, from which only names protrude like upright posts).
The internal connection which Tales of Long Ago have with folk poetry is a completely different question. From this point of view my Tales are really not mine, rather they are recitals, visions, the hopes, faith and beliefs of the whole soul of the Slavic people. From the Slavic land and air, from the white mist of Slavic water and sea, from Slavic snow and swamps, from the grain of Slavic fields our body is created and renewed, – the body of all us Slavs.
Whilst our soul is composed of Slavic emotions, feelings, from Slavic perceptions and conclusions. Therefore when we succeed to immerse totally within ourselves, when we write something straight from our hearts, then all that which is written that way, is true Slavic folk poetry.
So due to this and from this point of view, I gladly accept that the name of the author is changed (although clearly as such it is already written in every copy of Tales of Long Ago) and that it additionally says: "This is the soul of the Slavic peoples and this is how it speaks."
I was often asked about the origin of the Tales. For me the word "origin" seems far too scholarly. It ruins the notion of narrating. Nonetheless I can remember that the origin was actually like this:
One winter's evening our home was unusually, completely quiet. No one anywhere, big rooms, semi-darkness everywhere, a mysterious mood, in the fires – flames. From the furthest room – the great dining-room – there was a "knock, knock!" – "Who is it" I asked. Nothing! Again: "knock, knock!" – "Who is it?" Again nothing. With a secret fear I stepped into the big dining-room and suddenly: a joyous bang, a blow, a little explosion! In the great fireplace a pine log crackled in the fire, – from the grate of the fireplace sparks came flying to meet me like a cluster of stars, and when, with my spread hands, I tried to catch this little golden living gift, they rose up to the high ceiling… they were no more. At the time I was reading Afanasjev's The Ancient Slavs Poetic Outlook on Nature – in that moment the idea of the "domaći" (later translated as "Brownies") came to my mind. And so this cluster of spark-like stars would nonetheless be caught – and it would be in Stribor's Forest – which was created because of them. After this first story the others developed, seven of them, without any kind of separate "origin", so they too, like Stribor's Forest flew out like sparks from the hearth of an old Slavic home."
Reading this, let's remind ourselves of a well-known event from Ivana's childhood, how as a girl in her fifth year of school she heard the words of her teacher Marija Jambrišakova: "A sentence is a thought expressed in words.  A thought encompasses the world: so, a sentence encompasses the world."
From then on, until the last moments of her life, Ivana knew that writing was her call, her passion and her way of communicating with the world and life, and Tales of Long Ago and the rest of her works, are witnesses to that.
Source parts of this text were taken from the Croatian language edition of: Brlić-Mažuranić, Ivana; Priče iz davnine; published by Mladost; 1990.
The first English translation of Croatian Tales of Long Ago is available here: https://archive.org/details/croatiantalesofl00brli
If you would like to visit the locations which inspired Ivana to write Croatian Tales of Long Ago then please reserve a place for a guided tour with me along Ogulin's Fairy Tale Route via email or use the contact page.

Ivana's House of Fairy Tales visitor centre – Ogulin http://www.ivaninakucabajke.hr/hr/
Tourist Board of the Town of Ogulin http://www.tz-grada-ogulina.hr/
Translated by Martin Mayhew