When you win a great marketing campaign as a prize in these challenging times, it's a real stroke of luck! I heard about the campaign from one marketing expert who was one of my guests on the fairy tale route and Klek mountain, so I signed up at the end of September 2020.
The following people could apply for the competition: "Anyone who thinks that their idea, location, project or product enriches what Croatia has to offer tourism, by applying to the #firsttime competition has the opportunity to win a free and comprehensive marketing campaign that will ensure their visibility to the general public and present their entrepreneurial stories." Zagrebačka banka, with a selected expert jury, selected 15 candidates, of which I won 4th place. First place was won by the family-run Hotel Frankopan also from Ogulin.
The members of the expert jury were Iva Barbarić (Zagrebačka banka), Kristina Mamić (CNTB), Ivana Crnić (Ministry of Tourism and Sports), Iva Kaligarić (Señor), Goran Jović (photographer), Sanja Čižmar (505 Savjetovanje), Iva Mihalić Krčmar (Putoholičari), Hrvoje Bujas (Glas poduzetnika) and David Skoko (chef). My campaign includes online advertising, the publication of an article about me, a radio campaign with a 35-second video, my visual on about 40 billboards in Croatia, and a youtube video. It is excellent support and I'm grateful to be recognised amongst the great and the many.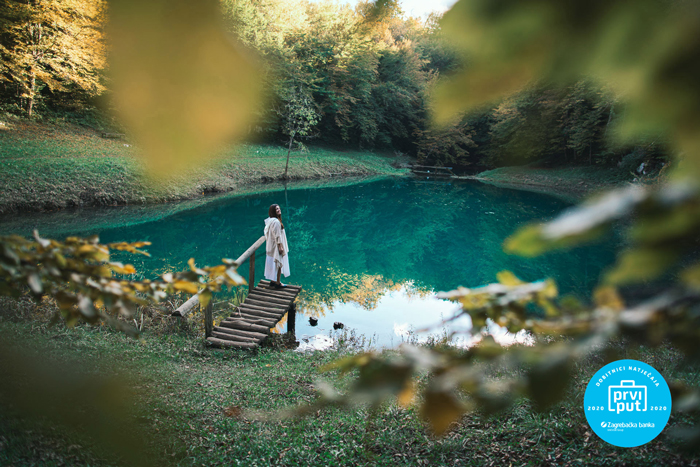 The recording of the video lasted eight hours and took place in just a few locations, mostly in the forest around Ogulin. It was especially interesting and a pleasure to work with the great Goran Jović and his partner Diana. The photograph chosen for the main visual was taken at Šmitovo jezero, in a small area full of ferns.
You can watch the video here and more info here:
And so… I won a marketing campaign for the first time, and now you can come and walk the fairy tale route with me for the first time!
Thank you to everyone who in any way participated and contributed in achieving, for me, a beautiful bit of happiness.
Translation by Martin Mayhew