Sabina Gvozdić – about me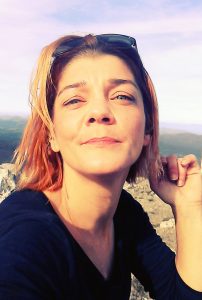 I was born in Ogulin. I spent my childhood here, attended and finished primary and secondary school. I spent two years of training in Zagreb, after which I began working in the primary school in Plaški as a teacher. I gained valuable experience in working with children who during the war abandoned their homes and settled in Plaški, in the search and need of a more peaceful life.
My next position was for the mission of OSCE (Organization for Security and Co-operation in Europe) in Croatia, at the office in Karlovac, where I also gained valuable experiences in working with people from all over the world. For the first two years I worked as a field assistant, and subsequently I was promoted to senior field assistant. We visited war affected regions, displaced people and returnees, in other words we communicated with people who had lost everything in the turmoil of war on an everyday basis. Here my job consisted of helping members of the mission in providing free legal help and advice connected to the restoration and return of property and the attainment of rights and documents. For several reasons this job made a deep impression on me because by touring the field and people I got to know families and individuals who were left without their property and rights; and I heard and listened to their stories, their life stories.
After six years the office in Karlovac closed due to the peaceful reintegration and my career with the OSCE mission in Croatia also ended. I took two years out from job hunting and dedicated myself to my daughter, who at that time was four years old.
After a two year break, I was employed at the Bjelolasica Croatian Olympic Centre where I worked for the next six years. I stopped working in 2012 due to a lack of motivation and irregular salaries from the employer.
During this time I heard about the storyteller workshop led by Jasna Held which was run as part of the Ogulin Fairy Tale Festival. I enrolled for this workshop which was held in 2012 and 2013 and I discovered this was in fact the job I wanted to do! And I continue to work along with the instructions of my mentor. My work was fruitful because after my first performance offers came for following projects and performances. I combined the art of storytelling with my training as a tourist guide and in 2013 I started my own small company Živa Riječ (The Living Word), which I still run today. I provide storytelling services for young and old and I am also a registered tourist guide in two counties in Croatia.
I live in Ogulin with my two daughters. I enjoy walking, storytelling, nature, reading and music.
I work with agencies and private groups from all over the world. I provide services in both Croatian and English.
Živa-riječ (ENG Living Word), small enterprise for storytelling and tourist guidance and translation.
Owner: Sabina Gvozdić, Bukovnička 46, 47300 Ogulin, Croatia.
Registered number: (OIB) 45930162870
Company registered number: 97479063
IBAN: Otp banka HR9624070001100504065
SWIFT (BIC): BIC OTPUHR2X
Mobile telephone: +385 95 I98 3397
E-mail: zivarijec.ogulin@gmail.com, sabina@ogulintales.com