Every year at this time, images, smells and feelings pop up as memories of Christmas Eve and Christmas, not just one, but from throughout my childhood.
From quite a distance, because my childhood dates back to the 1970s and 1980s, my memories are becoming clearer and clearer. The main figures, if I can call them that, of these memories are my grandfather Franjo and grandmother Anka. On Christmas Eve they gathered us around them like chickens, and without any conscious effort, just through what they did, peace and love, selfless giving, they showed us the power of togetherness and love within the family.
These images are especially ingrained in my memory:
In the village of Vučići, on the top of a small hill with a view of Dobra and the town, in a house always warm and ready for the arrival of grandchildren every day, not just on Christmas Eve, this day was always special. Needless to say, there was no big pine/fir tree, light bulbs, fancy paper and gifts as there are today.
Every Christmas Eve, as long as he was able, grandad would go to a nearby copse for a tree. He would prepare just a small Christmas tree, which he would place in a room next to the kitchen, usually on a chair. During this time granny would knead and bake some special bread called "božićnjak." There were, and still are, four of us grandchildren. After they had set up the tree, the decorating began. A box of decorations was brought out that contained decorative little birds that had clips to fix them onto the branches, a few decorative beads, and walnuts wrapped in foil or some other glittery paper that was to hand. Silver ribbons, red ribbons plus a star for the top of the tree. After we had decorated it, we would stand in front of it as though in some gentle, glittering, joyful miracle! He would then chop enough wood for a couple of days because no wood is chopped at Christmas.
A kuglof (gugelhupf or kuoglof) or sweet bread made with raisins, walnuts, poppy seeds and dry homemade biscuits had been standing a few days before prepared in boxes in a cold room.
Of course, as I had a sweet tooth, it was my favourite room, and I often tasted the traditional delicacies before the others.
Granny, like most housewives at the time, made both bread and the "božićnjak" bread and cooked and did the housework. She would choose the "most beautiful tablecloth and the most beautiful tray" for the cakes because food preparation had a very important place.
On Christmas Eve no meat was consumed until dinner, so for lunch potato and egg salad and a bean salad were prepared. This was the ritual for many years. The parents who worked during the day would join us for dinner and we would all eat together. By the time we had decorated the tree, usually with grandad, the smells of cooking chicken soup for dinner would already be spreading through the house.
"Božićnjak" is a round, festive, ritual bread, the preparation of which required great skill. It is made without yeast. The kneaded dough is placed in a round mould and decorated. Decorations are then woven from the dough: braids that go along the edge of the top of the "božićnjak", a cross that granny placed in the middle, so that the "božićnjak" is divided by the cross into four seasons. Unleavened dough figurines were made and placed on top of the creation. A jug or, as they say here "lajtić" with wine, a pig, chickens and a hen, and some other decoration. Then it would be baked, and since it had no food purpose, but a ritual one, in our family it would be brought to the decorated tree by grandad Franjo. Under the tree, whether it was fir, spruce or pine, there was also wheat that my granny planted on Saint Lucy's Day, 13th December. A coin was placed on the "božićnjak" loaf, along with a few small apples, walnuts, hazelnuts, and corn – as a blessing for a year of food, harvest and health.
There would always be a Christmas candle – which was often kept for the following years. The symbolism of the candle is multiple. It symbolises the light of Christmas Eve, the victory of light over darkness, good over evil, and the anticipation of the birth of Jesus. There were also clear rules when the candle was lit, when it was put out, and stored for the following year.
Grandad would then say a prayer, and us children would laugh at how serious he was.
The chicken soup was cooked, the cakes were on the table, the whole family gathers for a late dinner – and soon it would be Christmas.
Going to midnight mass was a normal thing for my grandparents, Christmas carols were sung and even a circle dance was performed in front of the church with joy, although I heard many times "that it wasn't allowed" – mine were allowed because they wanted to.
Christmas came and with it the first – as usual in my village – male well-wisher. The nearest and only neighbour on the hill was old Franjo Belin – my grandad's namesake, he usually came to the house first, wished everyone well, drank rakija, talked and laughed. He was a man full of stories and anecdotes that made us smile and laugh.
Then Christmas family lunch, chicken soup, a roast, usually with roast potatoes or "mlinci", salad, cakes, for the adults a little rakija and wine, and for us children oranges and cakes.
I don't remember the lighting of the "badnjak" yule log, because, after the Second World War, fireplaces in the houses gave way and stoves began to be built. The burning of a branch or the wood of a beech or oak on Christmas morning is a custom that was first mentioned in our country in 1272 in the Dubrovnik Statute Liber statutorum civitatis Ragussi. According to the Croatian ethnologist Vitomir Belaj, the tradition of lighting a yule log was widespread outside Europe, and the custom itself is very old.
Lighting a yule log was so common in all parts of our country, regardless of nationality or religion. The father of the family brought a yule log into the house on Christmas Eve and put it on the hearth after greeting everyone. The yule log was supposed to be smouldering, not burning, until the next feast of either Saint Stephen's Day or Epiphany/Three Kings – and that the log fire brought prosperity and peace to the family.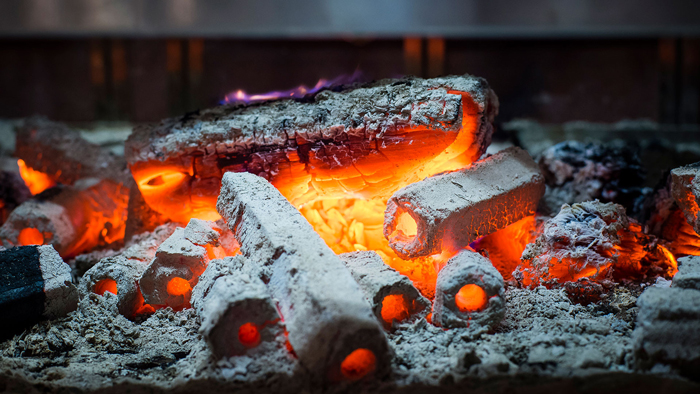 Christmas Eve and Christmas customs vary from village to village in this area, but all the acts, rituals and customs as well as beliefs – were passed on, at least in my case, unobtrusively, quietly wrapped in joy, and in a circle of people who carried love within them and spread it, peace, togetherness and happiness, both at Christmas time and every day for the whole of their lives.
This is dedicated to my grandfather Franjo and grandmother Anka Vučić, who were the light of our family and they will always be so.
I wish everyone a Merry Christmas and a happy, peaceful and healthy 2021.
Translation by Martin Mayhew